Thank you for subscribing
Thank you for subscribing to our e-news - we'll keep you updated with our latest campaigns, activities and events.
If you'd like to find out how to support our work financially or by volunteering, click
here...
How do you know if what you buy is really organic? Click
here...
We also have lots of information about where to buy organic and local, find out more
here...
Thank you again for subscribing, if you ever have any queries you can contact us by clicking on the 'Contact us' link below.
Manjo Smith
Chairperson
Namibian Organic Association
Contact us
Look for these marks for food you can trust.


Look for the Organic Mark
The only way to be sure that a product is truly organic, is to look for the Organic Certification or Organic Assessment Mark. Organic certification is the process whereby a farmer or processor applies for verification that their production is in compliance with a given set of organic standards and provides the end consumer with the guarantee that production has been in
compliance with those standards.

Third party, ISO accredited certification, is a method of organic assurance for export markets. Typical third party certification marks include the Afrisco, EU, Soil Association, Demeter, Naturland and the USDA Organic marks.

For local markets, alternative systems such as the IFOAM Participatory Guarantee System (PGS) can be used, which is currently used by thousands of farmers and consumers around the world as an authoritative mark for organic assessments. In Namibia, there is no cost involved for the farmer, so this is an ideal tool for Namibian Organic Farmers to indicate the organic integrity of their products.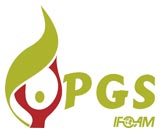 NOA received official IFOAM PGS recognition in March 2013, meaning that this PGS is endorsed by IFOAM because it operates in accordance with the Key PGS Elements and Features and that the integrity vis-à-vis the Principles of Organic Agriculture is verified.

In Namibia, look out for the "Namibian Organic" or "Namibian Organic in Conversion" mark. "Namibian Organic" means that the farm is fully compliant with the NOA Standards, and "Namibian Organic in Conversion" means that the farm is managed according to the standards, but is still in the 2-3 year conversion phase.

Each Organically Assessed Farm receives a certificate indicating all products which are assessed according to the NOA Standards. If you are in doubt, ask the farmer to present his/her NOA Organic Certificate to you.

How do you know it is organic?

Watch out for these Namibian Organic marks for food that you can trust.


After 2 – 3 years of organic farming and assessments according to the NOA standards, approved farmers can use the "Namibian Organic" mark.

After 1 year of organic farming and an assessment according to the NOA standards, approved farmers can use the Namibian Organic in Conversion" mark.

NOA has launched a new mark to recognise Namibia's organic farmers who are producing food according the organic production standards, but are not yet compliant with the processing standards. This means that the actual ingredients are organically certified, but the processing procedures and facilities are not yet compliant. Producers are encouraged to upgrade their facilities accordingly by 2016. The mark shows which ingredients are produced organically in Namibia by marking them with an asterisk (*).
The following marks are used on imported products: