Thank you for subscribing
Thank you for subscribing to our e-news - we'll keep you updated with our latest campaigns, activities and events.
If you'd like to find out how to support our work financially or by volunteering, click
here...
How do you know if what you buy is really organic? Click
here...
We also have lots of information about where to buy organic and local, find out more
here...
Thank you again for subscribing, if you ever have any queries you can contact us by clicking on the 'Contact us' link below.
Manjo Smith
Chairperson
Namibian Organic Association
Contact us
Look for these marks for food you can trust.


The Namibian Organic Association (NOA) offers their first 1-day BioChar production course, by

Ibo Zimmerman a former professor at NUST as well as Pandeni Nekuta, mechanical engineer.



"Increase your soil fertility with BioChar production."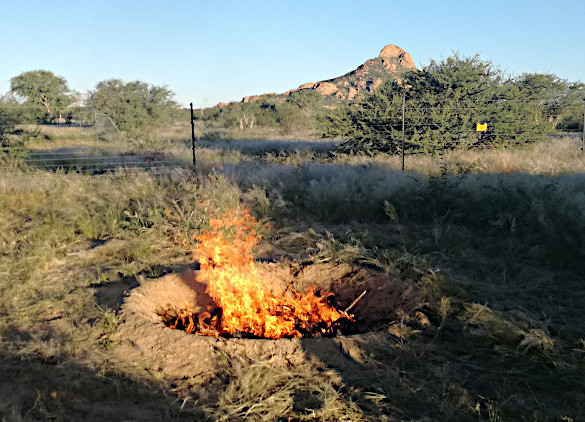 The course will be held at Farm Krumhuk, 20Km outside Windhoek
Date: Saturday, 11 September 2021
Time: 08:00 - 16:00
Fee:

790 non-members, 690 NOA members




The course will cover theory on BioChar production and practical, with two coffee breaks+snack plus lunch. The participants can bring containers and will receive biochar and quench water to take home (

20 l bucket for biochar and a 2 l bottle for quench water)

.

Seats are limited so please e-mail us to register
This email address is being protected from spambots. You need JavaScript enabled to view it.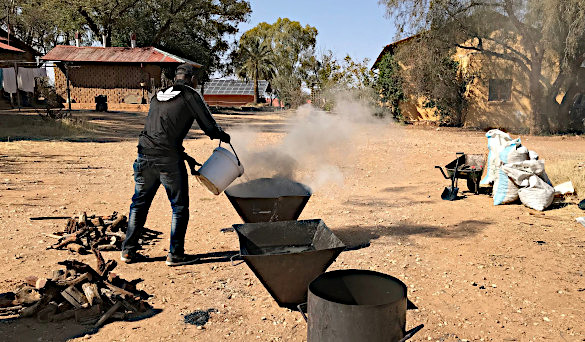 EVENTS CALENDAR
Announcement: Organic Association and Namibian Nature Foundation launch programme to boost organic agriculture in Namibia
Programme activities will be delivered through the Knowledge Hub for Organic Agriculture in Southern Africa
[WINDHOEK, NAMIBIA, 01 February 2021]
The Namibian Organic Association (NOA) and the Namibia Nature Foundation (NNF) launched country activities for the Knowledge Hub for Organic Agriculture in Southern Africa (KH SA) that aims to promote the adoption and scaling-up of organic agriculture in the region.
Mareike Aufderheide-Voigts, Namibian Project Manager, who holds a degree in B.Sc Organic Agriculture and M.Sc. Sustainable International Agriculture from the University of Kassel, Witzenhausen, Germany, notes that "introducing organic agriculture practises to Namibia's agricultural system will help the country combat climate change, rejuvenate agricultural soils, reduce agricultural water usage and produce nutrient-dense food."
KH SA is a collaborative country-led partnership funded by the German Federal Ministry of Economic Cooperation and Development (BMZ) and implemented by the Deutsche Gesellschaft für Internationale Zusammenarbeit (GIZ) GmbH. It is one of five Knowledge Hubs for Organic Agriculture, under the Knowledge Centre for Organic Agriculture in Africa programme, pursuing the goal of disseminating knowledge and shaping a network on national, regional and continental levels. The other four Knowledge Hubs for Organic Agriculture are implemented by GIZ in North, West and Eastern and Central Africa. KH SA is operating in Zambia, Namibia and South Africa with plans to extend the project to Malawi in 2021. The South African-based Sustainability Institute provides support for the regional project. NOA and NNF lead project activities in Namibia.
KH SA aims to close the knowledge gaps that limits the sharing of organic agriculture production methods in Southern Africa. Namibian project activities aim to grow the number of organic growers and volume of organic food produced in the country. The project will further be supported by the development of an online platform to disseminate context-specific knowledge about organic farming in Africa.
"Organic agriculture in the Namibian context refers to an inclusive approach to certified and non-certified organic agriculture production systems such as conservation agriculture; regenerative, biodynamic, biological and ecological farming; permaculture, agro-ecology and agroforestry systems, as well as climate smart and climate resilient production systems," states NOA Chairperson Eckhart Foertsch.
Organic food production is increasingly viewed by international organisations such as the United Nations as a strategic way to address challenges of rural poverty, malnutrition, biodiversity loss, particularly in a time of climate change. The United Nations Children's Fund notes that 25% of children under five years of age in Namibia are stunted and that malnutrition is widespread in the country. Organic agriculture can be a pathway to addressing not only hunger and malnutrition but also other challenges including poverty, water use, climate change, and unsustainable production and consumption.
"Organic agriculture is knowledge-intensive, and putting it into practice requires an in-depth understanding of soil fertility, natural cycles and interactions between soil, microorganisms, plants and livestock" says Aufderheide-Voigts. The KH SA project will help by gathering and sharing information with Namibian farmers to allow them to benefit from practices that are environmentally friendly and sustainable.
This collaborative partnership is important for long term sustainable socioeconomic development in Namibia, which depends to a great extent on the use of sustainable organic agricultural practices, both now and in the face of climate change. NNF and NOA are able to make significant contributions to such development through partnerships in education, training, research and extension activities.
"If you are passionate about nature then first and foremost you need to respect people. And in Namibia, for a large part of the population that means also respecting agriculture in rural areas and what we aim to do is strive for more productive landscapes that produce food and natural resources and at the same time maximise on the ecosystem services that benefit wider society. This collaboration between the NNF and NOA is a stride our organizations are profoundly proud of. The Namibian agricultural landscape continues to develop at an amazing rate and an initiative like this that equips farmers with the skills to practice more sustainable agriculture is of utmost importance. I am optimistic we will see more practices and methods used in farming with and not against nature," Angus Middleton, Executive Director of the Namibia Nature Foundation.
The next step in the project is to engage stakeholders and ensure that their recommendations are considered in project implementation. Engagements will take place online and face-to-face, COVID-19 regulations permitting. Aufderheide-Voigts notes that "we look forward to active participation in order to really grasp the needs of the sector here in Namibia."
For more information about the Namibian implementation of KH SA contact: Mareike Aufderheide-Voigts, Country Project Manager, Tel: 081 722 5378, Email: This email address is being protected from spambots. You need JavaScript enabled to view it.
.">
This email address is being protected from spambots. You need JavaScript enabled to view it.
.
For more information about KH SA contact: Angela Coetzee, Project Director, Sustainability Institute, Tel: +27 (0)21 881 3500, Email:

This email address is being protected from spambots. You need JavaScript enabled to view it.
Is your garden ready for summer? Join Saturday's training course and start growing your own organic vegetables!

You will learn about basic composting techniques, how to use earthworms to fertilise your soil, how to save water, what to plant when and how to control pests and diseases.

Venue: Farm Krumhuk, 25km south of Windhoek on the B1 (accessible with a sedan car)
Time: 7:30 for 8:00 am - 17.00 pm
Cost: N$750 per participant; N$650 for NOA Members. The course fee includes a light lunch, refreshments, and two coffee breaks with snacks
Presenters: Dirk Bockmühl, Mareike Aufderheide-Voigts, Eckhart Förtsch
Register: Seats are limited so please e-mail us to register This email address is being protected from spambots. You need JavaScript enabled to view it.">

This email address is being protected from spambots. You need JavaScript enabled to view it.




NOA's Annual General Meeting


Wednesday, 2 Dec 2020


Join NOA's Annual General Meeting on Wednesday, 02 December 2020.

NOA members will get feedback on the past year and are welcome to give input into future activities. New members can join before the start of the AGM to participate in voting and other official matters.




Venue: Namibian Scientific Society, 110 Robert

Mugabe Avenue, Windhoek.


Time: 1

7h30 for 18:00

pm - 20:00
RSVP: Please confirm attendance by e-mail

This email address is being protected from spambots. You need JavaScript enabled to view it.

or WhatsApp 081 663 3224 for catering purposes.
A donation bar is available.

2015-11-17
New NOA board elected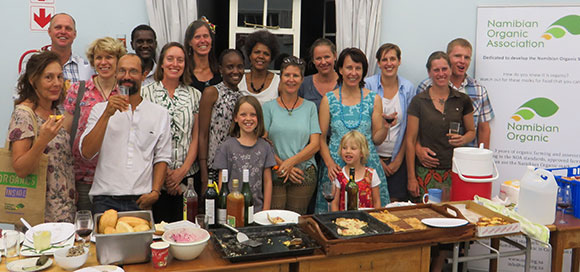 A BIG thank you to all NOA members and guests who attended the NOA AGM on 13 November. The following members serve on the new NOA Board: Manjo Smith (Chairperson), Judith Isele (Vice-chair), Ina Cramer, John Mafukidze, Stephen Barrow, Nathanael Shikongo and Moritz von Hase.
2021

NOA performs farm assessments
The NOA PGS Team assessed Farm Olifantwater West (near Blumfelde) early March 2021 and Farm Krumhuk (near Windhoek) end of March 2021 against the
NOA standards
.
Thank you to all farmers and gardeners for their transparency and hospitality and to all NOA members and interested farmers who joined the assessments as observers! We had a very lively and interesting exchange with all participants who enjoyed the assessments while learning a lot about organics.
2020
NOA performs farm assessments
In October 2020, the NOA PGS Team assessed Farm Bellissima (Okahandja) and Farm Gottesgabe (near Witvlei) against the
NOA standards
.
Thank you to all farmers and gardeners for their transparency and hospitality and to all NOA members and interested farmers who joined the assessments as observers! We had a very lively and interesting exchange with all participants who enjoyed the assessments while learning a lot about organics.
2015
NOA performs farm assessments
The NOA PGS Team assessed Farm Springbockvley and Farm Olifantwater West (near Blumfelde), Farm Krumhuk (near Windhoek) and the vegetable garden of Wolwedans (NamibRand Nature Reserve) against the
NOA standards
.
Thank you to all farmers and gardeners for their transparency and hospitality and to all NOA members and interested farmers who joined the assessments as observers! We had a very lively and interesting exchange with all participants who enjoyed the assessments while learning a lot about organics.
What we assessed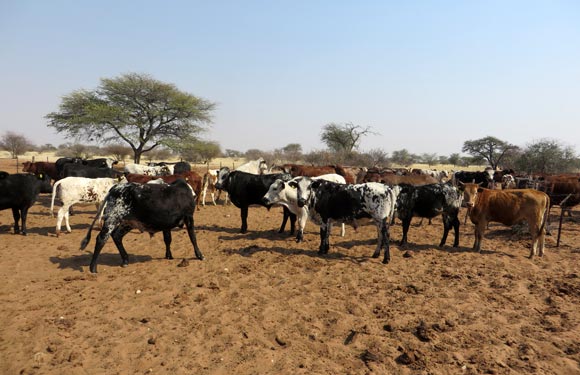 At Farm Springbocklvey, NOA assessed Nguni cattle and Damara sheep.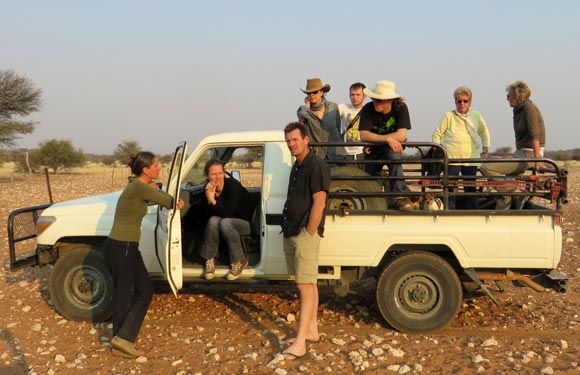 At Farm Olifantwater West, NOA assessed Nguni, Afrikaner and Bonsmara cattle, Damara and Swakara sheep.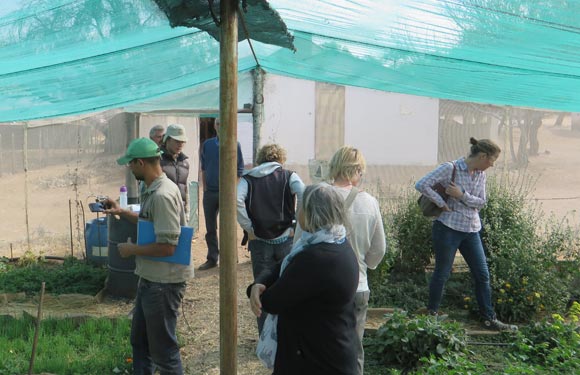 At Farm Krumhuk, NOA assessed beef and dairy cattle, vegetables, herbs and fruits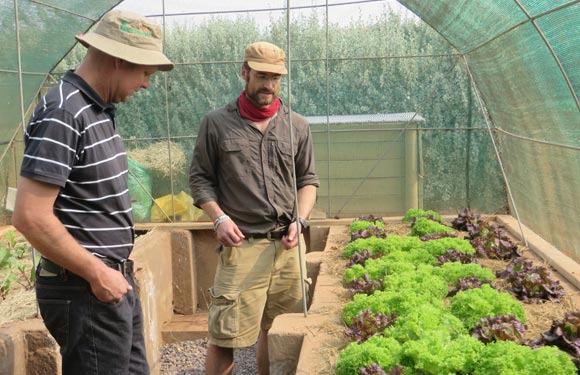 NOA assessed vegetables, fruit and herbs at Wolwedans.

The Namibian Organic Association assesses Namibian farms according to IFOAM's Participatory Guarantee Systems (PGS). It is a locally focused organic assurance system for Namibian organic produce which provides a credible and cost effective mechanism through which producers can provide an organic guarantee to consumers.
It is based on a transparent, formal, and systemized decision making process, and NOA members are invited to participate in this process as observers.
Find out more about NOA assessments
here...
2015-06-12
New organic mark for Namibia

NOA has launched a new mark to recognise Namibia's organic farmers who are producing food according the organic production standards, but are not yet compliant with the processing standards. This means that the actual ingredients are organically certified, but the processing procedures and facilities are not yet compliant. Producers are encouraged to upgrade their facilities accordingly by 2016.
The new mark (above) will show which ingredients are produced organically in Namibia by marking them with an asterisk (*).
By purchasing products that contain locally produced organic ingredients, you are also supporting the growing local organic agriculture sector. Please buy lots.
2021

IFOAM – Organics International with the Sustainability Institute did a 5 days Training of Teams of Trainers, the ToToT.
A group of about 17 people from across Namibia participated in the 5-day Training of Teams of Trainers (ToToT) that was held from 11-15 January 2021, Rundu, Namibia. These trainings were conducted as part of the Knowledge Centre for Organic Agriculture in Africa (KCOA) in partnership with the Namibian Organic Association (NOA). The ToToT aims to address Capacity Development Processes for Ecological Organic Agriculture in Africa at Continental and National Level.

"Knowledge on organic farming principles is still very limited in Namibia. This training was a great opportunity to facilitate the participants with technical knowledge as well as the training skills to act as multipliers of this content. The networking between the participants, who came from very different regions of this vast country was highly appreciated by all." Mareike Aufderheide-Voigts
NOA Board Member and Namibian Project Manager of Knowledge Hub for Organic Agriculture in Southern Africa




2015
NOA members attend Organic Urban Agri Workshop

Twelve NOA members recently attended a 4-day Organic Urban Agriculture Training Workshop in Cape Town. The training was offered by Abalimi Bezekhaya, an NGO working to empower the disadvantaged through urban agriculture projects in the informal settlements around Cape Town.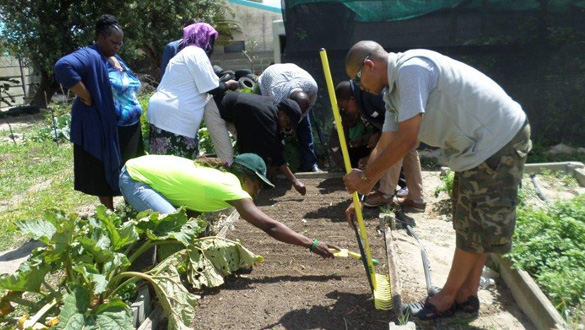 Above: NOA members receive training in urban agriculture.

Urban food security in Namibia is a challenge, and it is important to develop the skills and capacity of urban dwellers since more and more people are moving to cities. NOA is receiving increased requests for knowledge sharing and capacity building on the topic of organic agricultural production.

NOA is very grateful for the sponsorship by Tony Pupkewitz which made this capacity building exercise possible.

"In order to increase food security in the informal settlements, people can learn to produce some of their own food in the city," says Manjo Smith, NOA Chairperson. "Many people have access to a little bit of land, and with innovative water usage methods, it is possible to produce some vegetables."

"We realised that we need to put a competent team together that can ultimately offer local training and support to urban agricultural projects, small scale farming projects as well as large scale commercial organic farming projects. This is our first step in this direction, and we are very excited with all the knowledge and practical experienced that we have gained," says Manjo Smith.

The training course was very extensive, and training topics included planning of an urban garden, production of seedlings, soil fertility management, crop rotation, companion planting, plant nutrition, building compost heaps, applying mulching, preparing liquid manures, pest and disease control.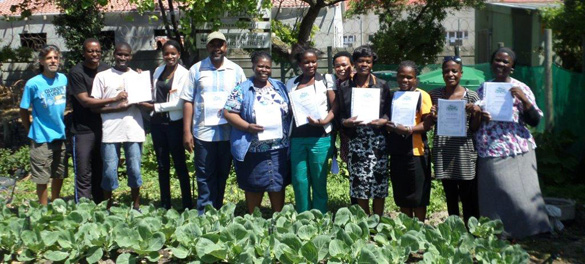 Above: the NOA members received certificates after their training.

"Abalimi Bezekhaya offered us a perfect opportunity of theoretical training, practical training as well as site visits and engagement with the urban agricultural community projects on the Cape Flats," says John Mafukidze and Patricia Sola-Mafukidze, founders of the Hope Initiatives Namibia (HISA).

HISA is a community based project in Katutura which focuses on supporting the community that are generally food insecure to grow home gardens. They also work with local Primary School teachers and Kindergartens teachers.

As a member of NOA, HISA endeavours to educate the community it serves to care for vulnerable children and offer training that will benefit the community by showing a functional model of a Community Organic Horticultural project that brings food security to individual households, incomes for breadwinners who if they have any debilitating disease can still get participation of family members in urban and peri-urban informal settlements.

The Abalimi project is a good model that taught us how sustainability for community based organisation such as HISA, can help the people to improve their lives. It's a Win – Win situation, and the project has the potential to reduce household poverty, create jobs for informal dwellers, improve the situation of household food insecurity, enrich peri -urban informal settlements with food supply and consumption of organically grown vegetables to sell and make a living. For a community based organisation such as HISA, this was our AHA! Moment at Abalimi centre and many other places we visited such as the Skye Organic Farm, Khayelitsha Garden Centre, Moya We Khaya Garden and Bambanani garden.

"The lessons learnt from the experiences of Abalimi on how to turn social gardens into Market Gardens that will ensure sustainability was an eye opener for our Organic Project in Namibia. We plan to adopt this practical model and contextualise it for the community, primary schools and kindergartens within the Namibian environment in the near future. HISA will strengthen its training programme with local primary schools and include the systemic teaching of Basic Organic Horticulture for the urban market as well as pioneer the production of seedlings for Organic market and own consumption," says John Mafukidze.

Martha Nataniel's highlight on the course was to see the high production in the city vegetable gardens, and how the community sell the produce and earn an income. "The community members involved in the respective gardens are responsible for their own piece of land, which includes the soil preparation, planting, weeding, harvesting and selling. A percentage of each member's profit is then put into the "pot" to cover the cost of irrigation. This helps them improve their own conditions".

Urban agricultural is a global and growing pursuit that can contribute to job creation, economic development, food security, community building and the social inclusion of the urban poor and women. Furthermore, it helps with the greening of the city and the productive re-use of city wastes.

"In a country with very limited resources, it is important to explore the various opportunities of turning waste into resources, which can ultimately be used to produce food for ourselves – so the entire city can become a farm", concludes Manjo Smith.